The Veterans' Assembly
On March 26th, the Green Giant Team welcomed five veteran guests who spoke about their experiences in the Armed Services. They related personal stories from the following conflicts: WWII, Korea, Vietnam, Desert Shield, Desert Storm and Bosnia.
Two Keith students, Alison T and Chris M received awards for their essays titled, "How Should We Honor America's Veterans?"
The following pictures were taken at the assembly: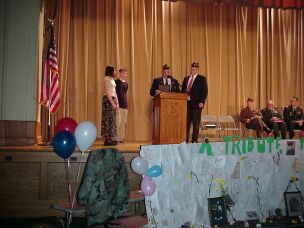 Alison T & Chris M receive their awards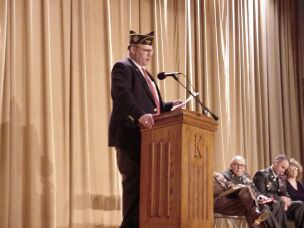 Toby Roberts introduces the speakers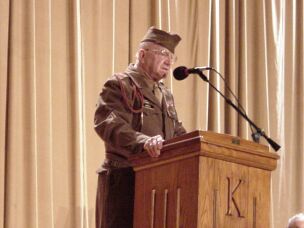 Cloyd Harris- Veteran of WWII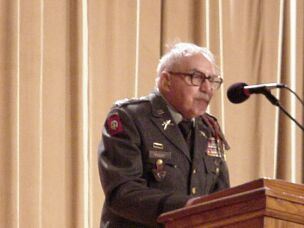 Colonel Psaki- Veteran of WWII, Korea & Vietnam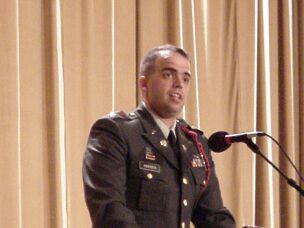 Captain Jim Anderson- Veteran speaking about Bosnia & Ethnic Cleansing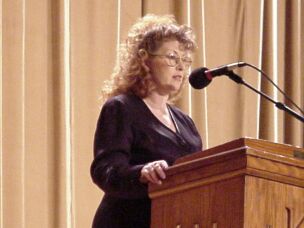 Tracy Anderson- (Mrs. Hoover's sister) and Veteran speaking about Desert Shield & Desert Storm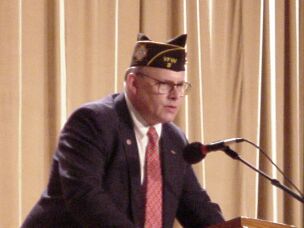 Toby Roberts- Veteran of Vietnam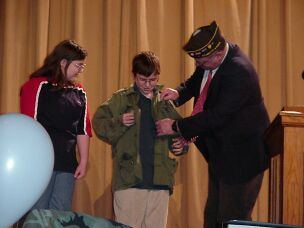 Toby Roberts shows the audience the bullet holes in his combat jacket using Randy O as a model. Jamie W looks on.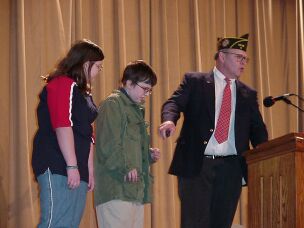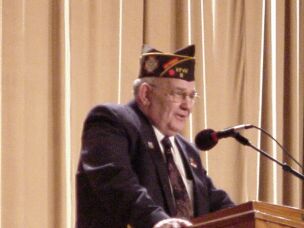 Veteran Robert Lysinger summarizes the feelings of the group by urging the audience
as future leaders- to avoid war at any cost.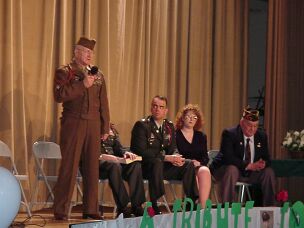 Speakers answer the students' questions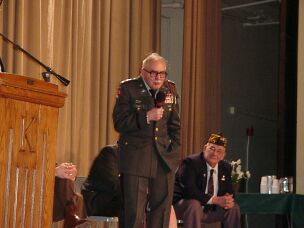 Our distinguished guests accept a hearty round of applause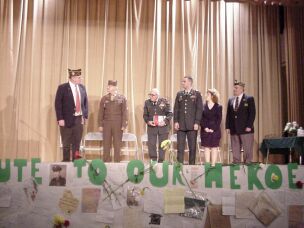 Jolly Green Giant Award Winners for March were announced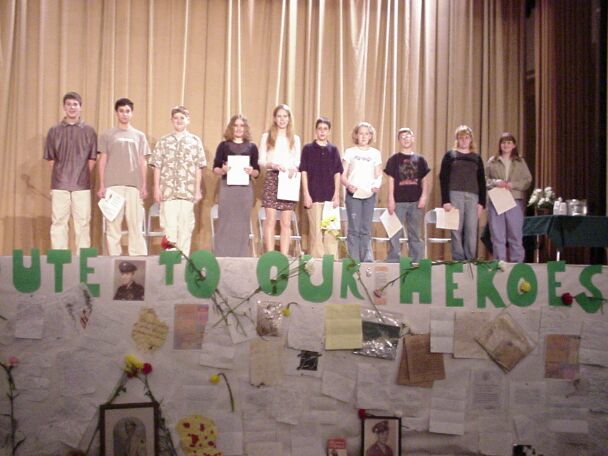 Josh W, Billy P, Randall P, Linnea M, Rachel L, Andy J, Ashley I, Chuck B, Alyssa B and Megan A
Students watched the video The Greatest Generation, narrated by Tom Brokaw, as a summary for the day's activities. Everyone left with a greater understanding of the sacrifices made by our veteran friends- the true heroes and role models of their generation.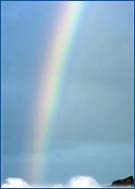 Students wrote the veterans at the end of March and described the projects they have been working on for Mission Butterfly. They have been become "authors" in Mrs. Carnicella's Reading classes-- creating and writing books; making garden markers, mobiles, stepping stones, and other projects in Mrs. Buck's science classes to donate to the butterfly room, courtyard and greenhouse.
They described the Veteran Memorial Wall that they made in Geography classes in their letters. They were asked by Mr. Greaser to bring in an artifact that could be placed on the wall as a memorial of a loved one who served in the war. This activity as well as the essays they wrote in Mrs. Claar's English classes on "How Should We Honor America's Veterans?" - have demonstrated their appreciation to our veterans.
The following group pictures were taken of the Green Giant Team after the assembly. What an awesome group!!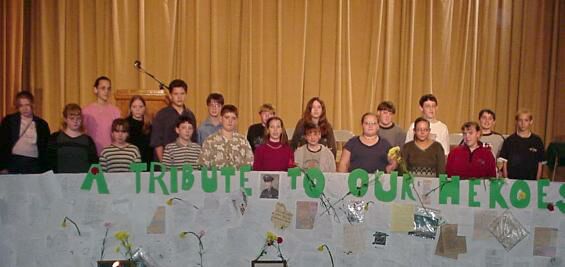 Left to Right- Front Row: Alyssa B., Ashley F., Chris W., Randall P., Kelly W., Ashley C., Bridgette W., Rachel B., Trisha E.
Left to Right- Back Row: Ashleigh S., Dominique G., Heidi W., Jamey J., John F., Brad S., Jessica W., Mike B., Scott C., Mike B., Chris M. Absent: Richie M., Kenny K.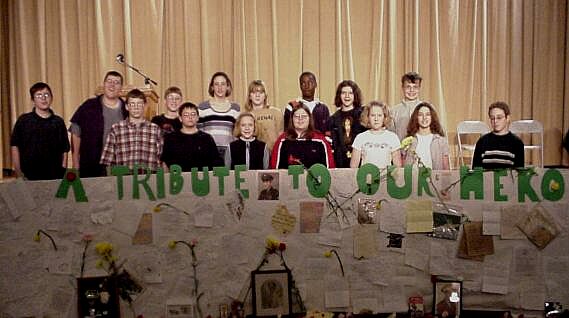 Left to Right- Front Row: Randy K., Dan C., Kaylei F., Jamie W., Ashley I., Corinne H., Nick P.
Left to Right- Back Row: Randy O., Joe R., Chuck B., Rachel H., Stacie F., Josh L., Sean M., James N. Absent: Travis M., Justin H., Carrie I., Don W.

Left to Right- Front Row: Jill M., Autumn M., Ashley C., Samantha A., Jessica D., Jonathan S., Travis Y., Jeff G., Justin T.
Left to Right- Back Row: Robert C., Josh W., Brian M., Henry C., Amanda L., Amanda G., Linnea M., Lance L., Thad F., Grant W., Bobby C., Matt L., Jonathan G., Alex H., Absent: Josh B., Matt B., Heather F., Bryan P., Stacy Q.,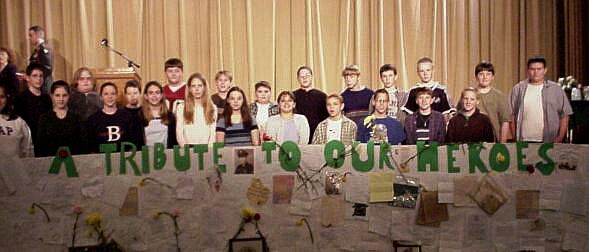 Left to Right- Front: Sarah A., Kim C., Ashley E., Whitney N., Rachel L., Abby M., Lisa R., Mike W., Nathan P., Mike C., Ian C.
Left to Right- Back: Andy J., Josh C., Matt M., Andy L., Josh B., Jeremy W., Tyler H., Justin P., Eric R., Zach S., Matt S., D.J. K. Absent: Ceana O., Nick E., James G.,
Left to Right- Front: Megan A., Julie L., Michelle M., Joelle R., Danielle H., Stephanie M., Bobby W., Tad S.
Left to Right- Back: Matt S., Kyle L., Bobby Y., Dan D., Derrek P., Chad B., Mike C., Zach H., Billy P., Grant G., Brian F., Burke B., Mandy M., Ashley A. Absent: Carlton C., Jon S., Tiffany M., Makenzie M., Dustin W.